In-room tablets from Hotel Communication Network are generating profits for owners, engaging guests, promoting activities and events, simplifying staff services, and improving the environment
Originally Posted: https://www.hospitalitynet.org/news/4096222.html
Ottawa, Ontario – By 2021, Statista reports that 1.28 billion people will be using tablet computers daily as communication devices, portable TVs, study tools, alternatives for PCs, e-readers, remotes for electronics, car radios, gaming devices and more. With at least 17 new tablets launched in 2019, manufacturers are expecting that tablet purchases will be popular among consumers again this holiday season. For hoteliers, this trend should not go unnoticed, as travelers continue to demand a seamless experience, which includes having fingertip access to hotel and local area services in the privacy of their rooms via tablet computers. Operators taking ownership of every single stage of the customer journey are finding the Navigator Tablet from Hotel Communication Network (HCN) to be a gift that keeps on giving year after year.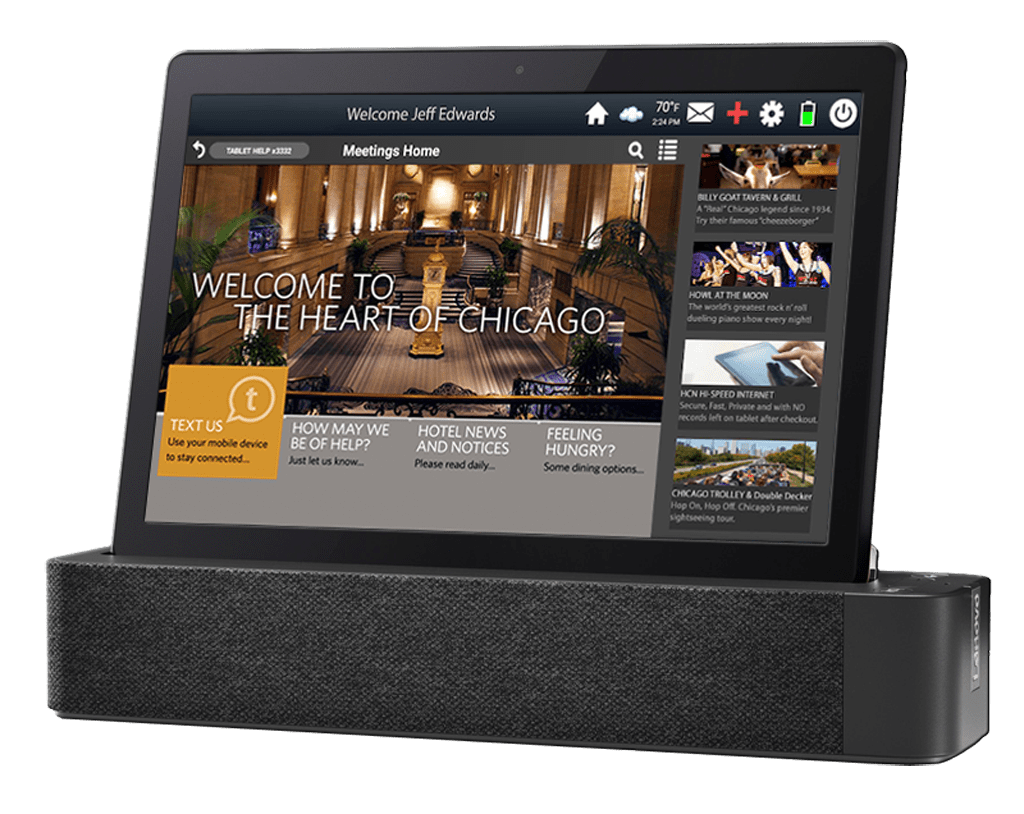 "Guests' expectations are changing, and they communicate differently than they used to," said Kevin Bidner, HCN CEO. "By digitizing the guestroom, operators are helping guests navigate their stay experiences easier than ever before. The interactive HCN Navigator Tablet creates a guest network representing everything they need to know about the hotel and the city. It's also a powerful delivery vehicle for property services and brand promotions, making travel easier by connecting guests to the hotel. But the benefits of Navigator reach far beyond the guest."
A Gift for Owners
HCN Navigator Tablets are having a big revenue impact on owners as they do much more than serve as digital directories that save printing costs. With 80% of guests using Navigator daily and sharing their positive experiences on social media and review sites, average daily rates are climbing and so are net promoter scores (see Gift for Marketers below). Owners also are enjoying heightened roomservice revenues. Guests order from the hotel's onsite restaurant and grab and go options (increasing revenues by 22%) and they can order from local restaurants and have the food items delivered to their rooms or a location of their choice while the property shares revenue from the sale. This is ideal for hotels that forego roomservice. Navigator is also generating revenues from digital advertising and upsell opportunities (see Gift for Marketers below). More importantly, it is lowering labor costs by allowing guests to choose when they want their rooms cleaned and it reduces energy costs by allowing guests to forego room cleaning for the day, thereby saving water and electricity (see Gift for the Environment below).
A Gift for Guests
The Navigator Tablet serves as a "command center" in the room where everything the guest needs is at their fingertips. Rooms controls (heating and lights), TV directory, city and hotel directories, room service, wake up call, check out, reservations and more are all available on the interactive device. Guests don't have to pick up a phone or get up to turn off the lights. It's the same level of convenience they are accustomed to at home now available on their hotel tablet. If looking for information offsite, Navigator also serves as a personal concierge, providing local area information on dining, business services, shopping, attractions, nightlife, events, and transportation. Guests can also browse the Internet for day trips or purchase tickets directly from the Navigator Tablet.
A Gift for Marketers
Navigator is helping marketers reach every guest, not just those who download the hotel's mobile app. Hoteliers say the tablets are boosting TripAdvisor scores and online reviews. The system's content publisher allows marketers to control guest communications and provide them with real-time marketing material updates. Marketers can send customized messages that promote specials and they can use the tablets to issue dynamic alerts (threatening weather, external protests, pending power or water outages or even promotional pushes) that engage guests in real time. Navigator can also support content advertising while driving ROI for hoteliers. This powerful platform, which keeps guests connected to the hotel, city and each other, is enabling properties to market to and service their guests better than before.
A Gift for Hotel Staff
Navigator's "Room Ready" feature enables housekeeping and maintenance staff to enter issues directly into the tablet, simplifying their lives and making it easy to achieve the high standards guests' demand. This eliminates the need for staff to pick up the in-room phone and call-in issues and updates, and it replaces other inefficient and costly processes. When rooms are ready, attendants notify the front desk through Navigator and they can enter notes about any product or equipment deficiencies. The note is immediately dispatched to the appropriate department to replace missing items or make repairs. By making staff jobs easier, there will be less likelihood for employee turnover.
A Gift for Meeting Planners
Navigator is enabling meeting organizers to event branding into every delegate's guestroom exclusively. Schedules, venue changes, speaker information and more can be communicated with attendees quickly and easily. Extending events into the guestroom via Navigator also creates sponsor opportunities, driving more revenues.
A Gift for the Environment
Navigator is also enhancing a hotel's sustainability program. Via HCN's exclusive "Guest Choice" program, guests are using the tablets to opt out of room cleaning, potentially saving owners considerable energy costs and up to $50 per room per month in labor costs. In addition to determining "if" and "when" they want their rooms cleaned, guests are also given the option to request late check out for a fee. Upselling this opportunity is an easy way to capture potentially lost revenues.
"Everyone loves Navigator, including guests who bring along their own tablets and smartphones," Bidner said. "While it's an amazing guest-engagement tool, hoteliers will experience 'Profit at First Touch' with Navigator. Perhaps that's why it's so high up on owners' wish lists for 2020. By placing HCN Navigator tablets in each guest's line of site, we are delivering more seamless experiences for guests, increasing overall satisfaction, and unleashing a host of new revenue opportunities that boost the bottom line and keep guest's coming back."