HCN's Navigator Tablet is proven to generate profits for owners and equip guests with self-service tools requiring less staff interaction – ideal for hotels operating with a reduced labor pool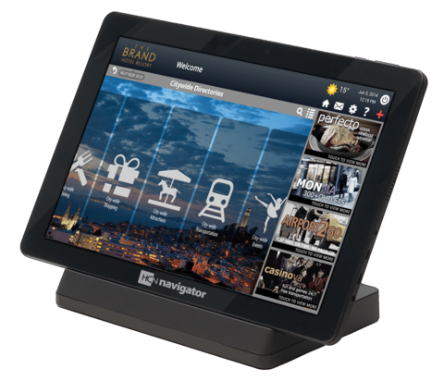 Originally posted: https://www.hospitalitynet.org/news/4095192.html
Ottawa, Ontario – September 24, 2019 – While the U.S. economy is experiencing its longest uninterrupted economic expansion in history, some experts are predicting it may end with a recession as soon as next year. If this forecast is true, hoteliers need to add technologies to the 2020 budget that will capture lost revenues, lower labor costs, boost satisfaction scores and increase average daily rates. One solution proven to do all of this – and do it quickly and easily – is the Navigator Tablet from the Hotel Communication Network (HCN).
By giving guests digital control over their hotel experiences, the HCN Navigator Tablet is preventing operators from leaving money on the table. Guests can use this revenue generating in-room amenity to order room service, upsell onsite services, opt out of room cleaning (saving labor costs), leave positive reviews (higher Trip Advisor scores lead to higher average daily rates), and share in revenues from direct channel marketing to local advertisers and event goers. With more than 80 percent of guests using HCN interactive tablets daily, hoteliers are increasing revenues from all these sources while lowering labor and other operational costs.
"A downturn may be on the horizon, and as such, hoteliers need to begin looking for ways to operate leaner without compromising service standards," said Kevin Bidner, HCN CEO. "Some hotel technologies are nothing more than cost centers, but HCN Navigator Tablets are designed to generate revenue by improving digital customer engagement. Placing a personal concierge in each room is giving guests more control over their stay experiences while redirecting critical employees to more important tasks that require face-to-face interaction.
"In-room tablets can have a far-reaching revenue impact – especially if they can do more than serve as digital directories and roomservice menus," he added. "HCN Navigator Tablets actually help boost TripAdvisor scores which ultimately leads to a higher A.D.R. With one million unfilled jobs across the U.S. today, hoteliers can also rely on these digital in-room assistants to help offset the labor shortage."
Bidner explained that if the front desk is working with a skeleton crew, the system will send housekeeping and maintenance requests directly to the appropriate department or the attendant on duty. And, if the hotel doesn't have the staff to run a roomservice operation, Navigator can help there too by arranging for delivery service from local restaurants through the guestroom tablets, a service guests really appreciate, and a newfound revenue source for the hotel!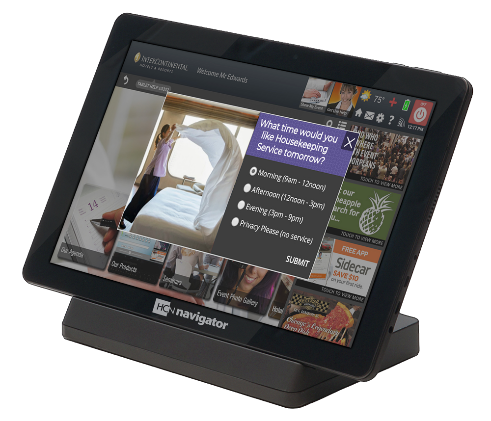 Here are a few ways hoteliers can use HCN Navigator Tablets to generate revenues:
Guests can specify what time they want their room serviced each day or they can opt out of daily cleaning on the Navigator tablet. If they opt out and participate in the hotel's "sustainability effort," they can receive rewards from the hotel in the form of frequent stay points, free food or beverage, etc. In the way, the hotel puts labor savings to the bottom line each time an attendant doesn't have to clean a room, and each additional stay from loyalty points means more revenue potential. Even a free drink typically leads to additional f&b.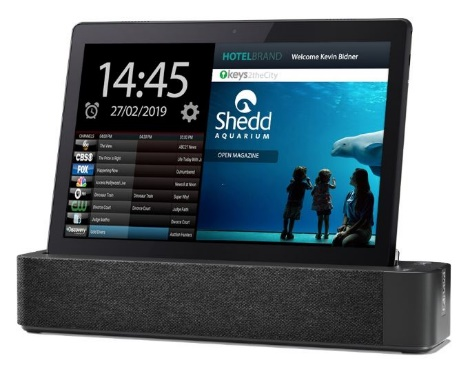 Via Navigator, hotels can encourage guests to request late checkout to enjoy the hotel a bit longer. Not only will this fee-paid service generate revenue, but the longer guests stay on premises, the more likely they will be to spend money elsewhere in the hotel.
Navigator entices guests to order from the hotel's onsite restaurant and grab-and-go outlets. This type of upselling is proving to increase room service ticket revenues by 22%.
If a hotel doesn't have a room service offering, guests can use Navigator to order from local restaurants that are handpicked to provide a wide variety of local dining options vs. relying on the hotel kitchen. All menus are digital, and orders are placed via Navigator and delivered to guests in their rooms or a location of their choice.
Navigator also prompts guests to leave positive reviews at check out. Being able to leave comments instantly on the tablet while good thoughts are still fresh will result in higher TripAdvisor scores, which in turn translates to higher average daily rates. If guests are in a hurry, they can be prompted to complete post-stay reviews. Capturing guests' email addresses via Navigator will aid in the hotel's marketing efforts and ultimately drive revenue from repeat stays.
Using Navigator to reach out to guests to ensure their stay is comfortable and that they have everything they need can also drive revenues. Quick response to personal requests shows the hotel cares about their comfort and happiness. The higher the guest satisfaction scores, the better the TripAdvisor scores and subsequent ADR.
Navigator tablets are enabling event organizers to communicate with their attendees directly in rooms for a fee. The hotel shares in revenue from direct channel marketing to event goers and connecting them to the hotel, the city and each other will drive hotel revenues and boost customer review scores.
Navigator is also a great digital space to offer exhibitor and sponsor advertisements. Rotating ads sold by the hotel's sales team dominate the screen, making them highly visible from anywhere in the room.
"Before adding any technology to the hotel's budget for 2020, it's imperative that owners consider the technology's profit potential," Bidner said. "Regardless 'if' or 'when' a downturn materializes, hoteliers will always come out on top if they invest in HCN Navigator Tablets due to its proven ability to enhance the guest experience and the bottom line."
To learn more about the Hotel Communication Network or to request an online demo, click here.
###
About the Hotel Communication Network (HCN):
Founded in 2008, with headquarters in Ottawa, Ontario, Canada, The Hotel Communication Network has built on years of research and development to provide an innovative high-value guest amenity that keeps each guest connected to their hotel, city and each other. For more information, contact us directly.